JOIN US SAT NIGHTS W/ DINNER & LIVE MUSIC!
8:00 PM – 10:30 PM
Reservations Recommended: 404-256-4330
_______________________________
FuegoMundo makes an 11.5 hr Catering Delivery during the Atlanta Snow Storm 1/28/14…see customer appreciations:
FuegoMundo is extremely grateful that the 50 stranded out of towners were well fed that night & that everyone made it home safely after the Catering delivery that took 11.5 hours.  Thank you Udi for your expert driving skills & many many thanks to our wonderful customers for their feedback & appreciation!  This is the stuff that makes all our hard work worthwhile!
_______________________________
JOIN US EVERY DAY OF THE WEEK…
SUNDAY BRUNCH:  11 AM – 3 PM
MONDAYS:  MIRACLE GF YUCCA PIZZA 3 PM – 9 PM
WEDNESDAYS:  HOT LATIN SUSHI & SAKE 3 PM – 9 PM
SAT NIGHTS:  DINNER & LIVE MUSIC  7:45 PM - 10:30 PM
LUNCH SPECIALS:  MON-THURS  11 AM – 3 PM
DAILY:  NEW CHEF SPECIALS DAILY!
RESERVATIONS RECOMNDED :  404-256-4330
_______________________________
WE LOOK FORWARD TO SEEING YOU SOON!
HASTA PRONTO…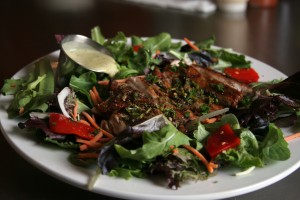 ________________________
HUNGRY FOR UNIQUE & DELICIOUS CATERING?
All FuegoMundo Entrees & Sides are Naturally Gluten-Free, Dairy-Free & Kosher:


Catering & Delivery to your Home or Office w/ 48 hr notice. Ask for a custom LUNCH, DINNER or CORPORATE CATERING quote.  WEEKEND CATERING & FULL-SERVICE CATERING available for Wedding, Bar/Bat Mitzvahs, and all Other Special Occasions.  Host a SPECIAL EVENT at FuegoMundo…we have Space!  Let Masha customize a package to fit your needs & budget:  masha@fuegomundo.com.
____________________________________